Welcome to our home page!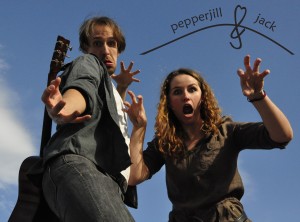 Essentially, what you need to know is we are PepperJill & Jack, and we are not what you were expecting.  🙂
Currently based in Seattle, WA – we formed in March 2012 in New York City and don't really follow any normal band conventions.  We're a band!  There's pretty much just the two of us.  Neither one of us is PepperJill OR Jack!  But wait, doesn't it make more sense to be PepperJack and Jill?  Nope!  Trust us.
With a blend of classical training, old-school rock 'n' roll, and odball quirkiness, we're having a hard time defining exactly what genre we're aiming for. There's a cappella. There's Simon-and-Garfunkel style vocal harmonies and finger-picking. There's trombone-vocal duets. We call it acoustic-eclectic, and we're having a blast.
We had a successful Kickstarter campaign to raise funds for our album which we are forever grateful for and proud of.
That's enough info for now.  I'll add some pictures and some videos, and, eventually, it'll be sweet.  Shannon is going to attempt to learn how manage a website, with the help of trusty old friend and web extraordinaire, Kyle Walters.